LAKESIDE STUDENTS USE MATH TO HELP THE COMMUNITY
The Lakeside Dog House Project was started as a 5th-grade math project. The project has students work on many 5th-grade educational standards and life skills. 
"It also helps the students focus on ways to work with and help the community that we live in," says Mr. Burford, a 5th-grade teacher at Lakeside.
The Doghouse project has many steps and different opportunities for the students to learn. Students begin by making a scale model of the actual dog house. Their model must fit on a 20-inch by 30-inch piece of foam poster board. The drawing and measurements they start with are for a 4fot by 8ft piece of plywood. Once students figure out what scale they need to use to shrink the measurements to fit on the poster, they build their model. Once the model is complete, students use the actual measurements to create the full-size dog house.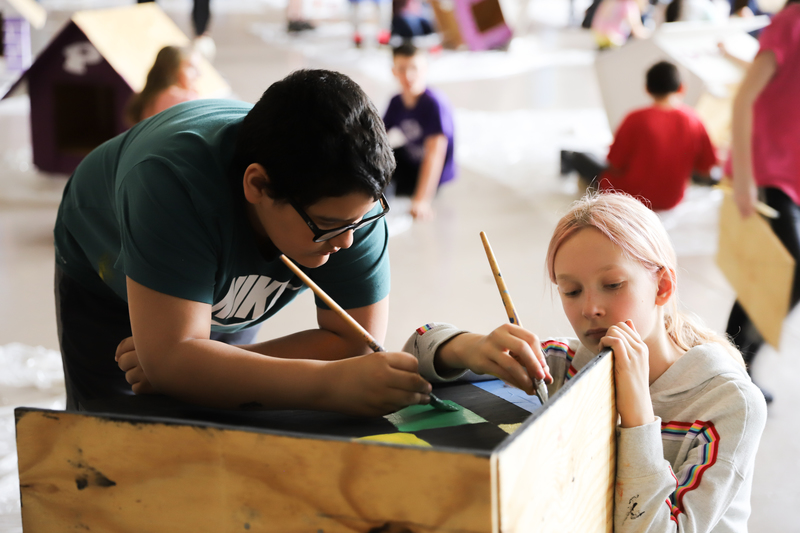 Students have to use many different math skills they have gained throughout the year during the project. A few of those skills are dividing by decimals or multiplying by a fraction to reduce the measurements to fit, measuring to 1/8 of an inch, drawing straight lines using a straight edge, converting fractions to decimals, and decimals to fractions. Students also have to use estimation skills, problem-solving, understanding scale, finding area and volume, and how to read diagrams and directions.  
On Monday, students painted their carefully designed doghouses with the help of the PSU Art Department. Students worked together in their groups to bring their ideas to life, using painter's tape, custom mixed colors, and stencils. The students and staff had a special visitor, Doodlebob, a 2-month-old/male/Bernese mountain poodle mix from the SEK Humane Society who approved the student's work.
Once completed, the dog houses are donated to the SEK Humane Society to be auctioned off at the Pittsburg Artwalk on Friday, April 29. 
These houses will be set up for the public to see from 5 PM - 7 PM in front of the Colonial Fox Theater. The LIVE auction, presented by Meyer's Auction Services, will be held at 7 PM.
Rules for the auction:
-you must be 18yrs or older to bid
-you must have a valid driver's license
-once you have won a house, you MUST be able to bring your won item home after the auction ends
-all items must be paid in full at the end of the auction 
The Lakeside Doghouse Project would not be possible without the #CommunityPartnerships of a few groups: The SEK Humane Society, Pittsburg Art Walk, PSU Art Department, PureLUXE dog food for their donation, Meyer Auction Service, and the Pritchett Trust Grant.
See the full photo album here: https://www.flickr.com/photos/...