Dairy Cow Visits Westside Elementary
Elishia Seals
Thursday, April 18, 2019
Monday, April 15th, our Westside students met Jitterbug, a Jersey cow from SouthWest Dairy Farmers. Callie Toews, the instructor for the Mobile Dairy Classroom, taught students all about dairy cows and what happens at dairy farms.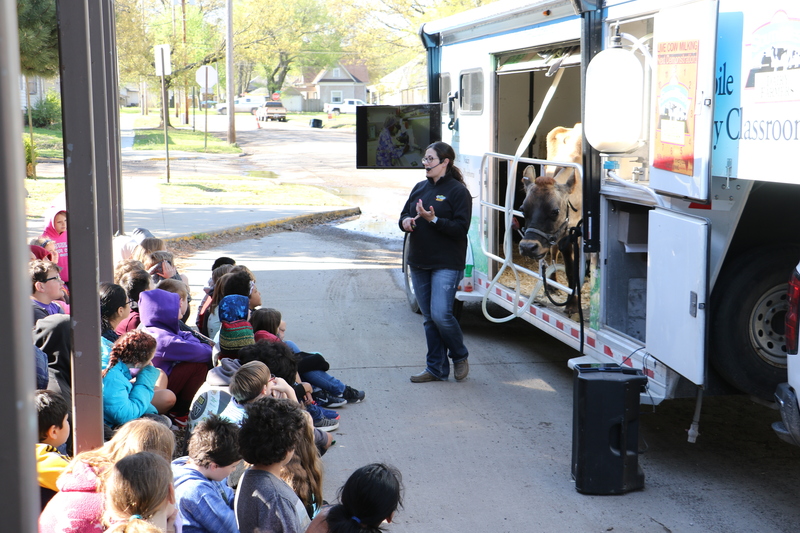 "We visit different schools every day of the week. The classes change based on the age group we are teaching, we talk about digestive systems with older students and keep it more simple for our younger ages." Says Toews.
The Southwest Dairy Farmers is an alliance of dairy farmers from Texas, New Mexico, Kansas, Missouri, Oklahoma, Virginia, Kentucky and North Carolina. These producers have pooled their resources to provide consumer education in nutrition, to promote dairy product use, and provide dairy product information.
"We would like to thank the Southwest Dairy Farmers for spending the day with us. Many of our students have never seen a cow up close. This mobile lab allowed our kids to experience how farmers milk a cow and learn how milk goes from the farm to the table. It was a wonderful opportunity for our kids." - Ann Lee, Westside Principal
Students learned special numbers for the Diary cows, like the number four equalling how many stomachs cows have, and that cows east 90 pounds of nutritious food a day. Toews presented to grades K-5 throughout the day. Jitterbug, unbothered by the milking or the presentation, chewed her cud.