PHS Book Club Gift Books to 1st Grade
Elishia Seals
Friday, May 24, 2019
PHS Book Club hosted the 1st Annual Spelling Bee last month with the help of several local businesses and generous individuals on April 11th. There were 50 Spelling Bee competitors, and the winner was Chanu Lee, sophomore, with Amber Dial and Madison Nagel, Seniors, taking 2nd and 3rd place.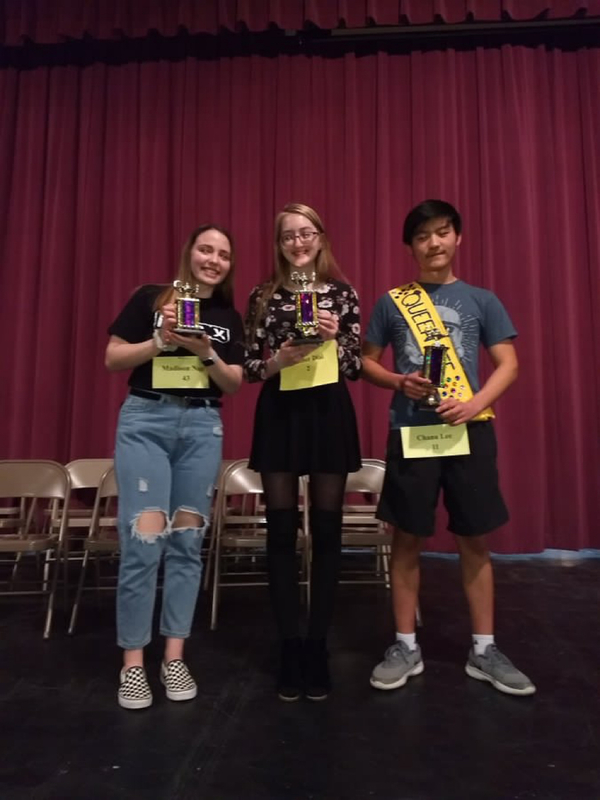 "Fortunately, we raised enough money to buy every 1st grader in the district a book. We purchased Chicken on Vacation through the Scholastic Book Order so the kids can all have something new to read for the summer vacation," says Emily Rountree, PHS Book Club Advisor.
Best friends and book lovers Mikayla Kitchen and Kennedy Tomasi are cofounders and copresidents of Book Club. When asked what inspired them to raise funds for children's books, Mikayla replied, "When Kennedy and I started Book Club, we wanted to spread a love of reading to our high school and fellow classmates, and we also felt that it was important to spread the love over all ages." Kennedy added, "When we raised enough money for a book for every first grader, we were so excited to be able to foster that love of reading at such a young age because both of us feel that it is one of the major factors that has shaped our lives tremendously."
The Book club visited all of the first-grade students in the district on May 9th to read their favorite books to the students and give each student a book to take home.