USD 250 Announces Partnership with Mammoth Turf
Elishia Seals
Monday, February 24, 2020
DRAGON NEWS: USD 250 Announces Partnership with Mammoth Turf 02/24/20
Pittsburg, KS - With a focus on the safety of our students and quality of investment, the partnership with Mammoth Turf and Pittsburg Community Schools was approved by the USD 250 Board of Education on Monday, January 27, 2020. Administration and Coaches joined together on Monday, February 10, 2020, to mark the beginning of this partnership.
Pittsburg Community Schools will now have the same elite playing surface as Gillette Stadium -home of the New England Patriots, the Mercedes Benz Dome - home of the Atlanta Falcons, and multiple other elite professional and collegiate teams.
"We are honored to be chosen to partner with the school district on the field replacement project at historic Hutchinson Field. We are excited to bring this project to life for the students and the entire Pittsburg community. As a Kansas owned company, we understand how important this project is to the school district and we are committed to making sure that Pittsburg USD 250 has the best experience possible." Jake Farrant, President and owner Mammoth Sports Construction
Built from 20+ years of industry-leading innovation and unmatched expertise, FieldTurf CORE, the first multi-layer dual-polymer fiber ever produced, rewrites the playbook for sports turf, reinvents the playing field, and redefines the player experience. Engineered for elite level facilities, CORE is designed to deliver a more realistic, textured, grass-like shape with optimal durability and resiliency. The 10-year insured warranty is a testament to CORE's multi-layer technology, which was designed to deliver the highest-fiber performance and resiliency currently available on the market.
"We are excited to partner with Mammoth Sports Construction on this project. Not only are we getting a high-quality product that is safe for our student-athletes but also a partnership with a company that has shown through our selection process that it focuses on high-quality service and relationships. It was their attention to a positive and responsive relationship based on trust that assisted them in rising to the top of the list." Mr. Richard Proffitt, Superintendent of Schools
The installation process is slated to begin in March 2020.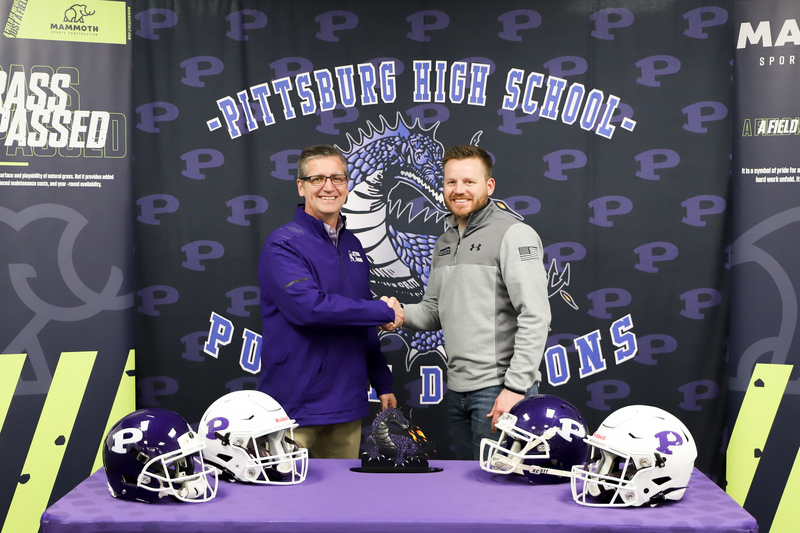 About Mammoth Sports Construction/Kansas Turf
Mammoth Sports Construction/Kansas Turf is headquartered in Meriden, Kansas and works with sports organizations at the highest levels throughout the nation. Mammoth is dedicated to designing, building, installing and partnering with clients on the field(s) of their dreams that will serve as a source of pride for years to come. Mammoth Sports Construction has installed fields at all levels from the NFL, Big 12, SEC, MIAA Conference and numerous high school projects throughout the state of Kansas. Visit www.mammothturf.com for more information.
###
Thank you for your continued support and media coverage of USD 250 Pittsburg Community Schools. We believe strongly in our partnerships with the businesses of our area and will make every effort to keep our community informed. Please note our External Communications Policy. All inquiries seeking an official District response or a statement on behalf of the District should be directed to the Communications Department at 620-235-3100.