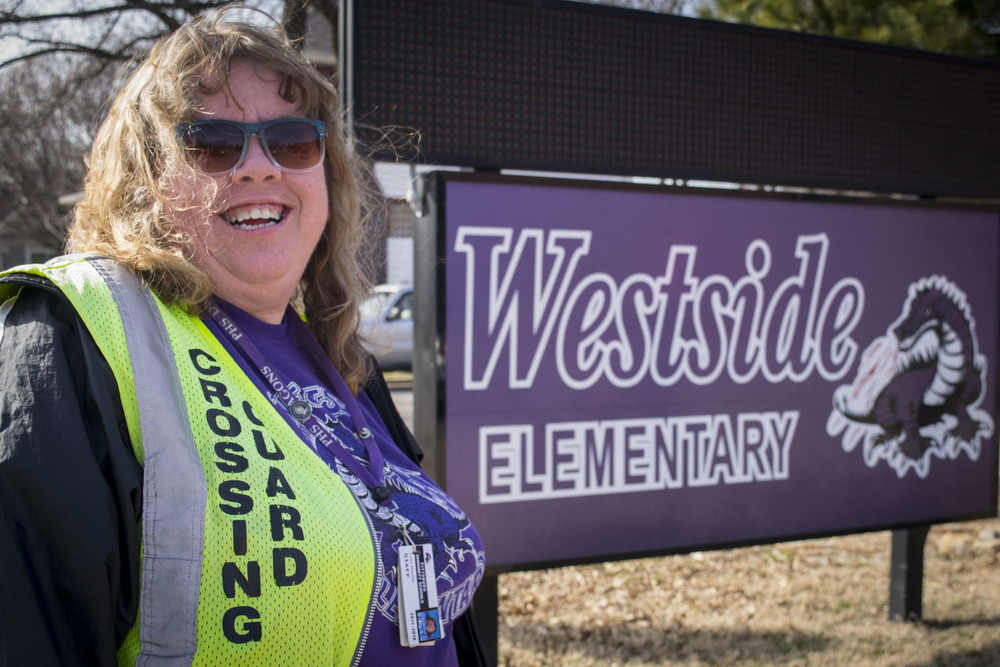 #DynamicDragons: Lisa Blythe
District Communications Office
Friday, March 30, 2018
Lisa Blythe has been working for Pittsburg Community Schools for more than 20 years with 17 of them at Westside Elementary as its crossing guard. Blythe's commitment to going above and beyond her duties by creating friendships with the students and families she helps arrive on campus safely makes her one of our #DynamicDragons.

"I work overnights at Walmart and then come here to Westside to be their crossing guard. I also work the football games in the ticket booth and as a scorekeeper for the PHS Softball team."

"I just love kids. This is a stress reliever for me after working the checkouts all night long. This is relaxation before I go home and go to bed."

"I was the crossing guard when I was in sixth grade. Back then, the students did it. Now, it is something I can do to make a little extra cash, it works with my schedule, and I can keep my sanity!"

"Everyone is fantastic around here. In addition to the kids, being a part of this Westside family keeps me going. I have built relationships with these students that have lasted for years. I have one previous student who will still stop and talk to me in the store even though he's in college. Recently, I was invited to another former student's wedding. It's those connections that make me feel like I'm part of a bigger family."