EDIT MAIN
#250CARES
Dragons, we know that things look different right now but we want to be sure that you know we truly care. This page is a reminder that your Dragon family is always here for you.

Below and linked on the side you will find resources for food services, internet and connection opportunities, mental health, and other things you may need during this time. As always, please do not hesitate to reach out to our staff if we can help you. We are all in this together!
RESOURCES
FOOD Service
USD 250 is currently serving food through our summer meals program. See the locations and times here. A child must be present or a parent with a District provided Meal Card to receive meals. Cards will be distributed at the feeding sites. To receive a card, all household children must be present. Once a Parent or Guardian has a meal card, they may pick up meals without a child present.
WIFI & HOTSPOT opportunities
USD 250 is available for "Drive up" Wifi. We have tested all of our school buildings and wifi is available in the bus drives, parent dropoff lanes and in some cases in the parking lots.
| | |
| --- | --- |
| Building | Best Coverage (20mb or greater) |
| GeorgeNettels | Front Bus Drive, Parking Area in Front, Bus Drive In Back Near North End, Parking Lot In Back |
| Lakeside | Bus Drive On North Side, Bus Drive On South Side |
| Meadowlark | Parking Lot In Front, Bus Drive In Front, Bus Drive In Back |
| Westside | Bus Drive On South Side, Parking Lot in Back On West Side |
| PCMS | South Bus Drive Near Cafeteria, North Bus Drive Near Office |
| PHS | Bus Drive On East Side, Bus Drive On West Side, Parking Near Building South Side |
For more information on connectivity please see our suggested options for providing connection to our Continuous Learning Plan.
Counseling
USD 250 Counseling staff are available during office hours by phone or by email. Please see the schedule below for your student's building/grade.
| | | | | |
| --- | --- | --- | --- | --- |
| George Nettels | Brandi Dalgarn | 620-687-1129 | | bdalgarn@usd250.org |
| Lakeside | Melinda DeGruson | 620-230-9892 | | mdegruson@usd250.org |
| Meadowlark | Christy Perez | 620-687-1391 | | cperez@usd250.org |
| Westside | Megan Dixon | 620-249-0580 | | mdixon@usd250.org |
| PCMS | Theresa Bailey | 620-235-9397 | | tbailey@usd250.org |
| PCMS | Terri Sutton | 620-235-9397 | | tsutton@usd250.org |
| PHS | Jessica Stegman | 620-232-4421 | | jstegman@usd250.org |
| | Gina Ulbrich | 620-232-4421 | | gulbrich@usd250.org |
| | Steph Loveland | 620-232-4421 | | sloveland@usd250.org |

CHC/SEK REACH Line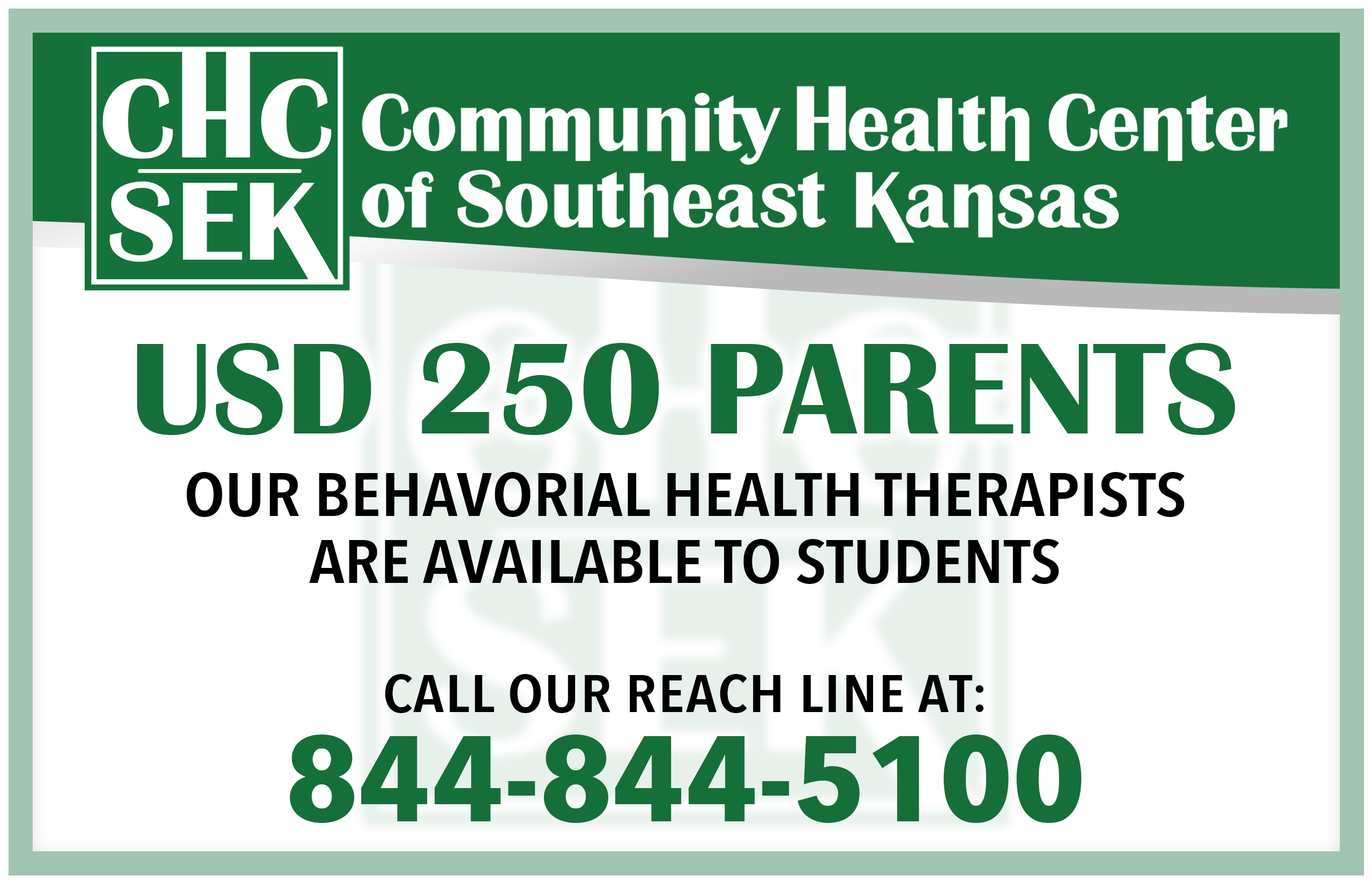 CHC/SEK is also offering Virtual Visits. This would give families an option to be seen medically by someone without having to go into the clinics for minor medical needs or routine care. See more about Virtual Visits at: https://chcsek.org/virtual-visits/.
ADDITIONAL RESOURCES
In addition to the resources above, there are many services in the community that may help you during this time.
Community Resource Guide
Salvation Army Emergency Service
Crawford County Resources
United Way 211
United Way 211 helps connect people to important resources and services in the community like food pantries, healthcare and insurance assistance, stable housing, utilities payment assistance, employment services, childcare and family services and other essential services. Toll-free and confidential services available 24 hours a day, 7 days a week. Call 2-1-1 or 888-413-4327. You can also visit www.211kansas.org.
---
WE MISS YOU. WE BELIEVE IN YOU. WE CARE ABOUT YOU.