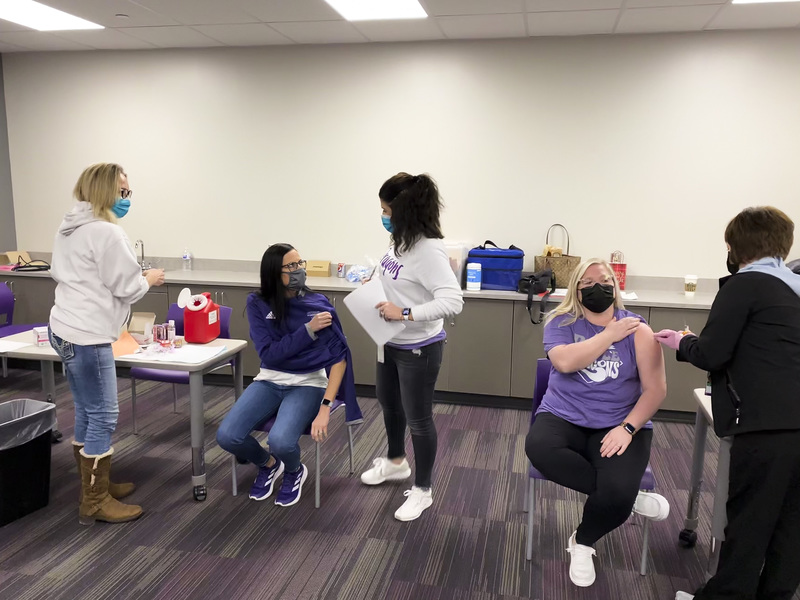 COVID-19 Vaccination Process Begins for USD 250 Staff

Pittsburg, KS - USD 250 began administering COVID-19 Vaccine to staff this morning. The first clinic for staff began at Pittsburg High School. The Crawford County Health Department will visit each building over a two day period for the first round of the vaccine and will return to repeat the process for the second dose.
On January 20th, Governor Laura Kelly announced the statewide move to Phase-2 of the Covid-19 Vaccination distribution, including K-12 and childcare workers: teachers, custodians, drivers, & other staff. Earlier this month, USD 250 gave eligible staff the opportunity to opt-in to receiving the vaccine during this phase.
"We are grateful for the partnership that we have had with the Crawford County Health Department and the Community Health Center during this pandemic.", says Richard Proffit, USD 250 Superintendent. "The vaccination administration, for our staff who chose to take it, is just another example of how we are working together to help make our environment safer and healthier. It has brought peace of mind to those who have wanted to receive the vaccine for some time. It goes beyond just being inoculated."
The COVID-19 vaccine is not required but was made available to all employees; this includes active substitutes, The Family Resource Center, Southeast Kansas Career and Technical Education Center of Crawford County, Interlocal staff working within USD 250, and all USD 250 employees.
"It's an exciting step for us and a step in the right direction. I'm thankful to see the excitement in our staff and to be able to help our team in receiving the vaccine. For me, it's a sign of hope. " Says Carrie Logiudici, PHS Nurse, who helped coordinate the clinic at PHS this morning.
It is important to note that the current COVID-19 vaccine is not suggested for those 18 and under and was not made available for USD 250 students during this clinic.
For more information about the COVID-19 vaccine visit KansasVaccine.gov
For more information about receiving the vaccine locally, please visit CrawfordCounty Kansas.org/Coronavirus .