Pittsburg Community Schools USD 250 and the Community Health Clinic of Southeast Kansas have partnered to provide every student the opportunity to receive an influenza vaccination. Vaccinations are available for all students during the week of October 12 – October 16. The CHC Mobile Health Van will be at each elementary building and Pittsburg Community Middle School at their scheduled date. Vaccinations at Pittsburg High School will be held in the CHC High School Clinic. Vaccination forms must be completed prior to the vaccination date. Students and parents can receive the vaccinations forms by contacting your child's school nurse within their educational building
CHC/SEK will bill insurance with no out of pocket expenses.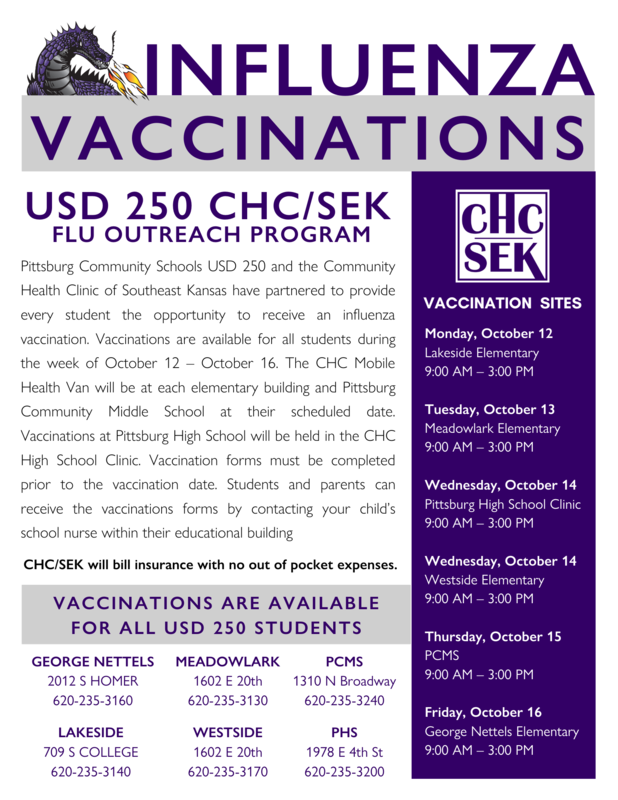 ---
Las escuelas de la Comunidad de Pittsburg USD 250 y la Clinica Community Health Clinic of Southeast Kansas se han asociado para ofrecer a cada estudiante a que tengan la oportunidad a recibir las vacunas para combatir la influenza (gripe). Las vacunas estarán a disposición de los estudiantes la semana del 12 de octubre al 16 de octubre. La Clínica móvil estarán en cada escuela elemental y la escuela Intermedia durante sus días regulares de visita. Las vacunas para los jóvenes de la High School estarán ofrecidas en la misma escuela en la clínica de la High School. Las hojas para recibir las vacunas deben ser completadas con anticipación antes de que se reciban las vacunas. Los estudiantes y padres de familia pueden recibir las hojas preguntado a las enfermeras de las escuelas de sus estudiantes.

La Clínica CHC/SEK se encargará de enviar la factura a su aseguranza sin costos para usted.